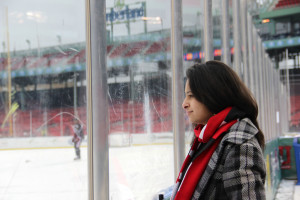 The last decade taught me that sports can hurt, but they can also heal.
From observations and my personal experience as a survivor of sexual assault and a woman of color, I learned just how unwelcoming hockey can be to minorities. Now my life's mission to make hockey a better place for minorities by drawing attention to its flaws and how to fix them.
I am the co-author of Game Misconduct: Hockey's Toxic Culture and How to Fix It. My work has appeared in outlets including College Hockey News, espnW, The Globe and Mail, and The Athletic and has twice garnered Best American Sportswriting notable honors. Named social change advocate by The Hockey News in the 2023 Money and Power issue, I have appeared as an expert on the CBC, Al Jazeera English and in the Black Ice documentary. I have also been named a sports personality to watch.
Awards
TSN 2023 Money and Power Issue social change advocate
Best American Sports Writing 2019 Notable
Best American Sports Writing 2020 Notable
To reach out for an interview or commission, please email me at: jashvinapshah @ gmail.com.
Publications
College Hockey News
The Daily Telegraph
The Globe and Mail
The Athletic
espnW

Media Appearances
CBC
Al Jazeera English
Black Ice Documentary