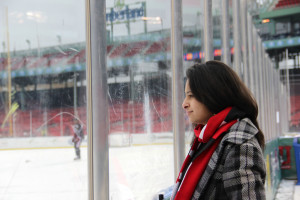 Hockey and writing are my biggest passions. I currently serve as the Editorial and Communications Manager for Neutral Zone, an amateur hockey scouting service that covers players aged 14-21 across the U.S. and Canada. I cover all things amateur hockey, ranging from running our social media to writing Q&As and features.
I also cover Big Ten hockey for College Hockey News and the CWHL for The Victory Press, and have freelanced for a variety of outlets.
In 2013 I founded Eye on the Tigers, a website dedicated to Princeton hockey coverage. I cover the team through breaking news, game coverage, features, interactives, videos and photo galleries. Over the past three years I've written over 600 stories and implemented a subscription service.
I previously freelanced for Hockey's Future, the West Windsor-Plainsboro News, Packet Publications and I previously covered the Devils for Inside Hockey and worked for, the New York Hockey Journal, NESN.com, The Daily Telegraph, WEEI.com and WTBU Sports. I've covered men's hockey, women's hockey, women's lacrosse, baseball, rugby league, soccer and more.
Over four years with WTBU, Boston University's student radio station, I covered women's lacrosse, women's hockey and men's hockey. I provided color commentary for many women's lacrosse and men's hockey games. I served as WTBU Sports' social media coordinator during my junior and senior years.
While at Boston University I was a lead tutor with Boston University Initiative for Literacy Development (BUILD), where I tutored children in Roxbury's Trotter Elementary School in English and math. As a senior I  served as a Resident Assistant in Warren Towers and supervised a floor of 42 freshmen residents.
Please feel free to connect with me on LinkedIn, send me a tweet or email me at jashvinapshah@gmail.com. I am currently seeking freelance as well as full-time job opportunities.