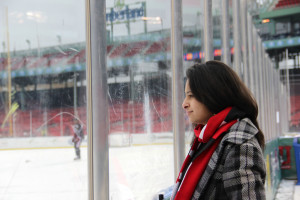 I am not an activist, but I am an author who covers the intersection between hockey  and social issues.
I am co-authoring Game Misconduct, a book about fixing hockey's toxic culture.
My work has appeared in The Globe and Mail, PEN Transmissions, espnW and more. I have been interviewed by several outlets, inclduing the CBC. My essay, Hockey is For Everyone, was listed as a notable in the 2019 Best American Sportswriting anthology. My piece No, This is Not a Watershed Moment for Hockey, was named a notable in the 2020 edition.
The past decade of covering hockey — from boys and girls hockey to professional and collegiate women's and men's hockey — taught that hockey can heal and it can hurt. From observations and my personal expereince as a survivor of sexual assault and a woman of color, I learned just how unwelcoming hockey can be to minorities. I've made it my life's mission to make hockey a better place for minorities by drawing attention to its flaws and how to fix them.
If you would like to reach out for an interview or commission, please email me at: jashvinapshah @ gmail.com.
I cover Big Ten hockey for College Hockey News. I previously served as the Editorial and Communications Manager for Neutral Zone, an amateur hockey scouting service that covers players aged 14-21 across the U.S. and Canada. I cover all things amateur hockey, ranging from running our social media to writing Q&As and features.I also interned at The Daily Telegraph, Sydney's largest-selling newspaper.